This is from a trip a couple of months back. I've put this through the mill: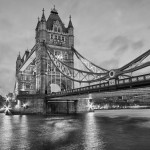 It's comprised of 3 images bracketed around F11 and 1.6 seconds [14mm on my ultrawide], which I've then and converted to HDR black and white. It's not a preset, just some experimentation with structure and contrast. I've then done a bit of dodging and burning. The original image is shot from the south of the river, and then looking across the bridge from Shad Thames. It's not an angle that you often see, and I have to admit that it looked a bit odd from a compositional point of view, so I've flipped it on the vertical.
I'm getting quite a lot of mileage out of the HDR black and white conversions, something that I keep on coming back to.