This is annoying: I only bought this tripod about a month ago, and it's broken already: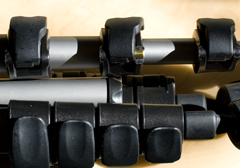 The leg clamp in the top centre is showing the small brass pin that acts as the hinge. The retaining plastic has sheered off. I've only used the tripod a couple of times, and it hasn't had the chance to get knocked around. It looks like the hinge mechanism has broken under its own pressure.
Update [05/09/2008]
I got in touch with the eBay seller about the fact that the broken hinge. Not only did he replace it very rapidly, but he refunded the postage on the returned tripod.